Electric Guitar Interconnect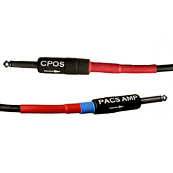 This interconnect is specifically designed to reduce signal loss as the last step in the chain from the stomp box to the amplifier. The copper positive, along with the brass ground, work together with the PACS assembly process to retain thicker mids normally lost by conventional cables.
To achieve the highest fidelity, PACS recommends a specific cable length of 14.5 feet.