"After using your cables in all of my music productions and replacing my speaker cables with your cables, I have noticed a tremendous improvement in sonic clarity and volume."
— Dan Furmanik, Dan Furmanik Productions, Inc.
Electric Guitar Speaker Cable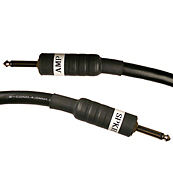 The very fat and clean sounding Mogami 3101 is terminated to a specially designed G&H plug with a copper positive. The treatment of the ground helps deliver the range specific to the electric guitar.

To achieve the highest fidelity, PACS recommends the shortest cable length possible that will not cause stress or pinch the cable.