Keyboard Cable (1/4" to 1/4")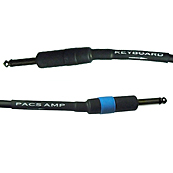 PACS, Don Hillebrand of Aural Harmony, and G&H Industries have collaborated to develop silver core plug that is unique the industry. This plug unveils the harmonic content of the keyboard patch, and the sound is more open and less glazed. The silver core, the solid brass ground, and the PACS assembly process have significantly elevated the sonic standard of keyboard amplification. An ideal choice for players who search for a more realistic piano sound.
To achieve the highest fidelity, PACS recommends a specific cable length of 15 feet.